Frequently asked questions
What kind of products are available on the portal?
---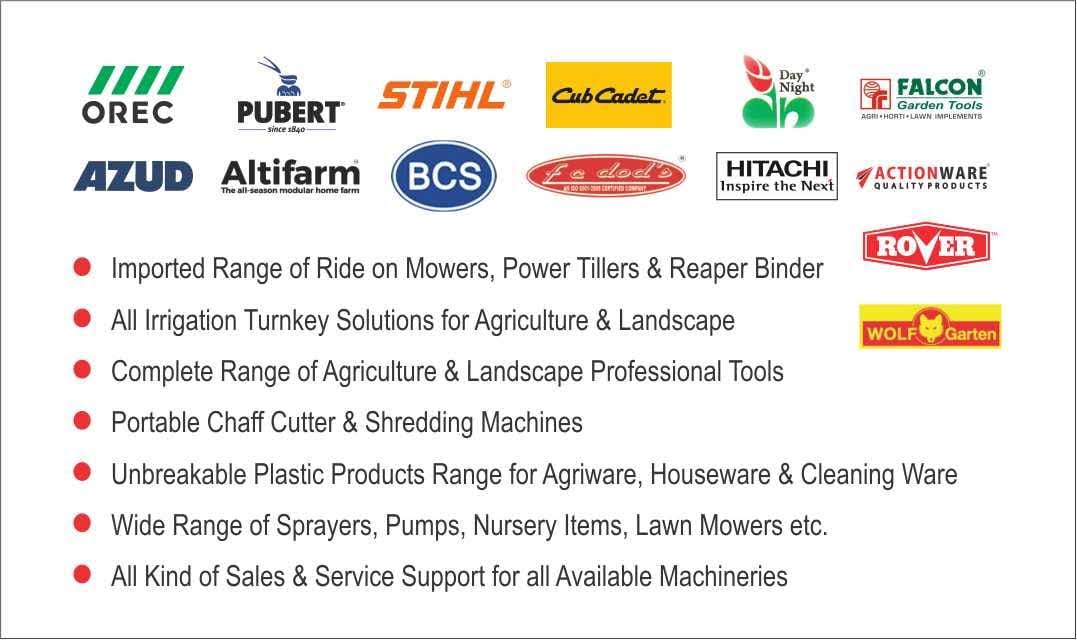 To add a new question go to app settings and press "Manage Questions" button.
---
What is Gurudattagro.com ?
---
Gurudatta Agro is a professionally organized company established in 1982 and a leading Importer and Distributor of Agricultural, Horticultural, Gardening and Forestry equipment, and tools. ​ Gurudatt Agro Is an Emblem of Trust and Ingenuity. Gurudatta Agro Offers Wide Range of Products and Service Solutions in The Field of Precise Drip And Sprinkler Irrigation (Both For Agriculture And Landscape), Power Tillers, Brush Cutters, Chaff Cutters, Lawn Mowers, Professional Agriculture Tools, All Kinds Of Pumps And Sprayers, Nursery Items Etc. We Are Associated With Worlds Best Trusted Brands In The Field Of Landscape And Agriculture.
---
What are the advantages of purchasing from gurudattagro.com ?
---
Branded Product at Lowest Cost

Doorstep Delivery
30 Days Return Policy
Round the clock customer support
---
Do you provide warranty for products?
---
Warranty is offered by the seller. Kindly refer Seller Warranty Terms and Conditions in the Product Description page
---
Can I buy products for individual purpose?
---
Yes, you can buy products for individual purpose as well.
---
In how many days gurudattagro.com can deliver products?
---
Based on the availability and region, we will deliver products within specified time
---
Is product return policy available?
---
Product can only be returned if
Received product is damaged
Received Wrong Product
In the above mentioned two scenarios, buyer has to notify us within 15 days of delivery. In case of manufacturing defects, the product will be repaired and restored to working condition.
---
Do I get any concession in purchasing bulk?
---
For bulk orders, kindly mail us on care@gurudattagro.com
---
How can I track my order?
---
Tracking status will be updated frequently via email. A buyer can alternatively track the shipment using the unique tracking code shared.
---
---